Latest News & Events

TCS: Safe Acceleration and Enhanced Driving Stability
On wet, slippery roads, the car can unexpectedly go into a skid, not only when braking but also when accelerating. The Traction Control System helps out by preventing the wheels from spinning. This improves vehicle acceleration and tracking.


Featured Products

ASTAR PRIMA



Ultra low profile 50 series "VR" rated steel-belted radial tyres to go up to 240km/hr.

Promotion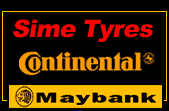 Special Promotion!
Sime Tyres / Continental-Maybank Interest Free Program for 2002 / 2003 Festive Season, effective 2 Decemeber, 2002